ATTENTION: We have resumed tours at Lakeside Occasions! Our staff will be wearing masks during tours and appreciate your efforts to maintain social distancing as much as possible.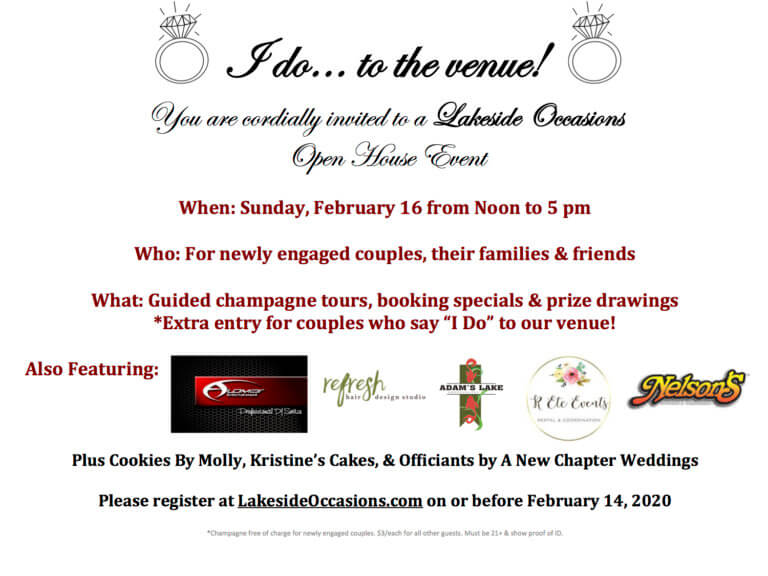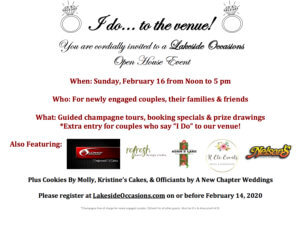 Lakeside Occasions will hold a special Open House Event on February 16, 2020 for engaged couples who are searching for the perfect wedding venue! So far, our plans include Champagne Tours, Food & cake samples, Hair & Makeup Demos, Music, Lighting, Booking Specials, Prize drawings, a Grand Prize Giveaway and mini photo sessions with a professional wedding photographer!
Check Availability
Have a date in mind for your event?
The barn is available for weddings Fridays, Saturdays, and Sundays from April through November.
Schedule a Tour
Ready to see us in person?
If the barn is available on your event date, then contact us to schedule a tour of the property!
Words of Endearment
Brides, grooms, and guests share their experiences at Lakeside Occasions
Our day could not have been any more perfect.
Taylor & Wesley
Thanks for helping make our special day extraordinary.
Liz & Les