ANNUAL HOLIDAY BAZAAR
OCTOBER 28 FROM 8 AM – 3 PM
LOTS OF VENDORS, FOOD & DRINKS, ON-SITE MASSAGE, & DOOR PRIZES!
INTERESTED IN BEING A VENDOR? MESSAGE [email protected].
Monique Martin – Bride – June 30, 2018
"The venue itself is absolutely breathtaking, but it's so much more than that!! With all the extra options and decorations available to use they make the process so easy, and yet still make it unique to you!!"
Kari Burger – Bride – April 14, 2018
"They were very professional and were there to help with whatever we needed! You helped so much making our day absolutely perfect! They went above and beyond for us and even helped out with things that they didn't have to but did!"
Robby Kelly – Groom – June 23, 2018
"This venue is top notch at customer service, and the care they put into their facilities. Thank you for all you helped us with!"
Austin Burns – Groom – July 7, 2018
"Amazing place for our wedding. Kara was a pleasure to work with and the place is beautiful. Would recommend for anyone wanting to do an outside wedding."
Kim Murrell – Mother of the Bride
"We cannot say enough wonderful things about this venue. The setting is gorgeous with so many options. Kara and her staff are phenomenal to work with. My daughter and her now husband had the wedding of their dreams. The interior of the barn is perfect for any rustic setting your looking for."
Taylor White – 2017 Bride
"This was the venue my husband and I were looking for when we initially imagined our wedding day. The barn is beautiful, rustic, clean, air-conditioned, and taken care of. The land it is on is gorgeous and open. The price point was great if you're looking for a "classy" barn wedding. Make sure you give this venue a visit before making your final decision. We are so happy that we came across Lakeside. Our day could not have been any more perfect."
MaKayla Lisek – 2017 Bride
"We were very happy with this venue! It turned out to be a wonderful day…the weather, the staff, the grounds were marvelous."
Keri Wilhem – 2017 Bride
"This venue is gorgeous! Absolutely perfect for a more rustic theme! The staff is amazing as well! Very inviting and easy to work with! I would highly recommend this venue for your special day!"
Joe Cassel – Guest
"Excellent venue, fantastic attention to the client. Eager to make the event as perfect as possible! Thank you!"
Laurie Wilson-Beam – Mother of the Bride
"This is a gorgeous venue…they are so accommodating and I couldn't have asked for a more perfect day for my baby girls wedding."
Kristin Amstutz – 2016 Bride
"I absolutely LOVED Lakeside Occasions! Very easy to work with, gorgeous venue, small town feel that just makes you feel at home."
Kirsten Teel – 2016 Bride
"My husband and I fell in love with Lakeside the moment we saw it. The weather unfortunately did not cooperate for us to have our wedding outside BUT it worked out beautifully inside! Kara is wonderful to work with and even helped me get to the barn without getting drenched! Thank you so much Kara & family for having a place like Lakeside Occasions."
Ready to see us in person?
Check if the barn is available for your event and schedule a tour!
Words of Endearment
Brides, grooms, and guests share their experiences at Lakeside Occasions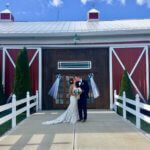 Our day could not have been any more perfect.
Taylor & Wesley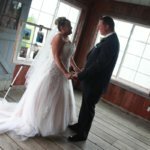 Thanks for helping make our special day extraordinary.
Liz & Les