ANNUAL HOLIDAY BAZAAR
OCTOBER 28 FROM 8 AM – 3 PM
LOTS OF VENDORS, FOOD & DRINKS, ON-SITE MASSAGE, & DOOR PRIZES!
INTERESTED IN BEING A VENDOR? MESSAGE [email protected].
Lakeside Occasions offers weddings and receptions on Fridays, Saturdays, and select Sundays from April through November.
Our rentals range from $3000 to $5500 plus tax depending on your desired date. These rates do not include food and beverage or add-on services. 
A $1500 non refundable Reservation Fee and completed contract are required to reserve a wedding date. An additional refundable Security Deposit is required for all events. A holiday fee will apply to any event that falls on or adjacent to Memorial Day, July 4th, or Labor Day.
Please fill out our Contact Form to request a custom quote.
Our Wedding & Reception package includes:
Exclusive use of The Guernsey Barn and lakeside grounds
Choice of outdoor ceremony site (gazebo or "little white chapel") with up to 250 chairs – set up by our staff
Reception tables and chairs for up to 250 guests – set up by our staff
Heat & Air Conditioning
Tables for buffet, wedding party, drinks & desserts
Unique changing rooms for the wedding party
Restrooms (Handicap accessible)
On-Site parking and attendants, parking signs & cones
Specialty tables, barrels, spools, and other rustic accent furniture
Caterer's prep kitchen (no stove/oven or warming equipment on site)
Outdoor gas fireplace & patio seating
2 scheduled planning visits
Planning Session for customized floor plan
Scheduled rehearsal time (based on availability)
Staff on site during event for assistance with the facilities
Trash removal during and after event
1 hour use of property for engagement/'Save the Date' photos
Endless Photo Opportunities!
Hours of Use:
Fridays: 11 am to 11 pm
Saturdays: 10 am to 12 am
Sundays: 10 am to 8 pm
*Day before decorating & rehearsal dinner space may be purchased as part of our two-day rental package (Friday and Saturday events only) – based on availability.
Payment Schedule 
A non-refundable Reservation Fee of $1500 is due at signing, along with a completed Rental Form. The remaining balance will be split into two equal payments due at 6 months and 60 days prior to the wedding, respectively. The refundable $500 Security Deposit, Bar Services fee, and Outside Catering fee are due 1 month prior to the wedding. Charges for add-on services and bar balances are due 1 week prior to the event. We will send invoices along the way and are happy to arrange a payment plan that fits your needs.
Add-On Services:
Sound System
Accent Lighting
Day-Of Coordinator
Outdoor Rentals
Bar Services: Lakeside Occasions is the mandatory vendor for all bar services. Menu available upon request.
Ready to see us in person?
Check if the barn is available for your event and schedule a tour!
Words of Endearment
Brides, grooms, and guests share their experiences at Lakeside Occasions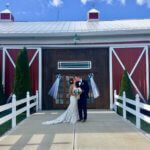 Our day could not have been any more perfect.
Taylor & Wesley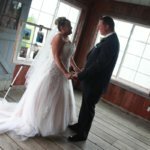 Thanks for helping make our special day extraordinary.
Liz & Les