Our 50's-style diner in The Coop is the perfect spot for the men to suit up, chill out, and shoot pool before the wedding. (Plus, there's a disco ball!)
The Coop is also a unique place for your rehearsal dinner and smaller events, like corporate outings, family reunions, showers, graduations, and birthday and anniversary celebrations!
(It's also where the restrooms are located, just in case you're looking when you get here.)
Ready to see us in person?
Check if the barn is available for your event and schedule a tour!
Words of Endearment
Brides, grooms, and guests share their experiences at Lakeside Occasions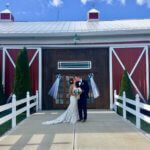 Our day could not have been any more perfect.
Taylor & Wesley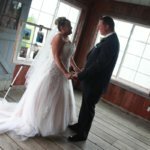 Thanks for helping make our special day extraordinary.
Liz & Les