ANNUAL HOLIDAY BAZAAR
OCTOBER 28 FROM 8 AM – 3 PM
LOTS OF VENDORS, FOOD & DRINKS, ON-SITE MASSAGE, & DOOR PRIZES!
INTERESTED IN BEING A VENDOR? MESSAGE [email protected].
 Janet & Darrell Byers
Janet and Darrell are the heart and soul of Lakeside Occasions and the masterminds behind the amazing transformation of The Guernsey Barn. They've lived on the farm for more than 30 years and raised two children in the old farmhouse – the same home where Janet was raised. Darrell is a well-known fixture in the RV industry and Janet is an Independent Director for Thirty-One. On wedding days, they're usually busy entertaining the grandkids at the lake or scouring antique markets. The Byers value family and faith above all else and are glad to share their home with couples and their families as they celebrate their love and marriage.
Kara Byers
I'm Kara Byers – Event Coordinator and manager at Lakeside Occasions! My husband, Jason and I moved "home" in 2014 after our son, Jax was born. Jason and I left behind our TV news careers in Atlanta, GA to get back to our small town roots and help out with the family business. Jason is a distribution director for a chemical coatings company in Shipshewana. I am known for my passion and attention to detail (OCD on overdrive) and would love to help coordinate your event from start to finish. Jax loves anything farm-related and dreams of being a farmer one day. When we're off work, we're usually on the lake with the little man, Grandpa & Grandma.

Martha Owen
Martha has been with Lakeside Occasions since the 2020 wedding season. Before coming to Lakeside, she worked as an event manager for another wedding venue for 7 years. When she's not at Lakeside, she is a librarian and museum curator for the Nappanee Public Library and Nappanee Center. Lakeside Occasions, the Library and Nappanee Center fuel her passions for events and the execution of them. When she's not at either she can be found with either her nose in a book or exploring what the area has to offer with her husband, Eli.
Ready to see us in person?
Check if the barn is available for your event and schedule a tour!
Words of Endearment
Brides, grooms, and guests share their experiences at Lakeside Occasions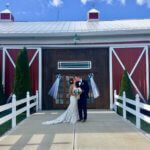 Our day could not have been any more perfect.
Taylor & Wesley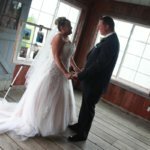 Thanks for helping make our special day extraordinary.
Liz & Les