I'm ready to book my wedding at Lakeside Occasions!
Yay! We're so grateful you chose our venue for your special day! I promise, you won't be disappointed! Click here and select "Book the Venue" from the dropdown menu. I will send you a couple forms by email. Once those are completed and your Reservation Fee paid & confirmed, I will mark the date(s) RESERVED on our calendar!
Do we have to buy wedding insurance?
No, but it's highly recommended that you do. Sites like Event Helper, Eventsured, and WedSafe offer insurance in case of damage, injury, weather, or even cancellation/postponements, depending on the policy you choose.
Do you rent table linens?
No, but you may be able to rent them from your caterer or one of the rental companies listed on our Wedding Pros page.
What are your decorating restrictions?
No real candles. LED are fine.
No fireworks or sky lanterns. (Sparklers are OK depending on weather conditions & they must be pre-approved by the venue.)
No staples, nails, screws, tacks or anything that would leave a permanent hole.
We require REAL flower petals on the lawn for processions. (No birdseed, rice, or confetti.)
We DO NOT ALLOW loose glitter, confetti, small beads or candies that may get stuck in the floorboards.
How many people can fit in the barn?
250 max can be seated inside the barn, both for your safety and for the comfort of your guests. 150-170 gives you lots more elbow room during dinner and a larger dance floor.
Is there parking on site?
Yes. There is ample parking space in the grassy lot to the south of the barn. Our attendant(s) will be in the lot as guests enter to ensure orderly parking.
Is the barn handicap accessible?
Yes. Our barn and restrooms are both wheelchair accessible. We have handicap parking located next to the big white pole barn and will have a golf cart available (weather permitting) if guests need shuttling to the ceremony site.
Do you have heat and air conditioning?
Our barn, restrooms, and changing rooms have heat and air conditioning. We do our best to keep the barn comfortable, but please keep in mind that the walls of the barn are not insulated – therefore, it can be difficult to control the temperature when guests are coming and going. We will keep an eye on the temperature throughout the evening. If you have an urgent request, don't hesitate to ask our staff, but we are generally not liable for the weather.
Do I need to rent tables and chairs?
No. We have plenty of round and rectangle tables and white padded chairs, plus additional chairs for outdoor ceremonies. Everything is set up by our staff so you won't have to move furniture on your wedding day.
What if it rains?
The ceremony can easily be moved indoors to the reception space in case of inclement weather.
Can we bring our own alcohol?
NO. Per Indiana law, all alcohol must be provided and served by Lakeside Occasions. We offer a variety of beer, wine, and (pre-mixed) cocktails.  Please ask us for a menu!
Do we have to use your bartenders?
Yes. We have a number of staff members who are licensed to serve alcohol responsibly.
Do you require security?
Yes, when alcohol is served. We make the arrangements for the officer to be here. The renter is responsible for the cost, which is currently $30/hour (subject to change.)
Do you accept credit cards for a cash bar?
Not at this time. Cash only.
What about non-alcoholic drinks?
We do not provide non-alcoholic drinks, but you are welcome to bring them. We even have a metal trough you can put soda cans and plastic bottles in, but you'll also need to supply ice.
Do we have to use your vendors?
The only mandatory vendor is for Bar Services – all other vendors are up to you. We do charge a $200 fee if you don't use one of our pre-approved caterers, but you're welcome to use any professional catering service that is licensed and insured. At this time, we do not allow self-catering for reception meals.
What decor items do you offer?
We have roughly 50 tree slabs (often used for centerpieces) some jars/vases, votives, and a few easels and signs. But mostly, we have vintage furniture you can use to display items – such as barrels, spools, and even a lemonade stand. We also rent a pair of antique wooden doors to frame the entrance of your aisle.
Do you offer a military discount?
Yes! We offer a 5% discount to veterans and active duty military members who book their wedding and/or reception with Lakeside Occasions. The discount applies only to the rental balance (not extras, bar services, etc.)
Can our pet be part of the ceremony?
Yes, but they must be leashed at all times. And they must be kenneled and cared for somewhere safe & away from noise during the reception – or off the property before the reception begins. And please pick up after them (i.e. clean up any accidents)!
Do we have to clean up?
Yes, but we make it super simple! Clean-up involves throwing trash away (we will provide trash bags and take them to the dumpster), boxing up decorations, and retrieving personal belongings from the changing rooms and kitchen. The venue handles tables, chairs, and restrooms. We have cleanup instructions posted in the kitchen and on the back of the storage room door. We also leave printed "Checkout Checklists" in the storage room for your convenience.
What if I left something behind?
If we find anything during cleanup, we will notify the newlyweds. Found items will be available for scheduled pickup. If items aren't claimed in a timely manner, they may be thrown away. Lakeside Occasions is not responsible for any damaged, lost, or stolen property.
Is there lodging on site?
We don't have lodging on site, but there are plenty of hotel rooms in nearby Shipshewana and Middlebury. Check out our list of Where To Stay.
What if I need to cancel? Will we get our money back?
We hate to hear when things don't work out but unfortunately, the Reservation Fee and any other monies paid are non refundable. If you'd like to reschedule, we will do our best to accommodate you based on availability – but there may be date change fees involved. This is a great reason to consider wedding insurance!
When are payments due? 
We require a non refundable Reservation Fee and completed contract to reserve your date. The remaining balance will be invoiced by email at regular intervals.  There's no penalty for paying early and we're happy to arrange a payment plan.
Our No. 1 goal is to make sure your experience at Lakeside Occasions is fun and memorable! If you have a question, contact Kara – our Event Coordinator/Manager – [email protected]  / 260-585-3211.
Ready to see us in person?
Check if the barn is available for your event and schedule a tour!
Words of Endearment
Brides, grooms, and guests share their experiences at Lakeside Occasions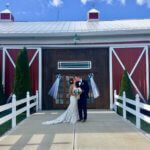 Our day could not have been any more perfect.
Taylor & Wesley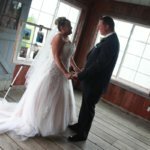 Thanks for helping make our special day extraordinary.
Liz & Les