Lakeside Occasions is the perfect venue for other events such as corporate outings, holiday celebrations, family reunions, showers, graduations, birthdays, and anniversaries, engagements, etc.
Because we are primarily a wedding venue, other events may only be booked on available weekdays or Sundays within 60 days of the event.  Hours of use must fall between 11 am and 10 pm. Please fill out our Contact Form to inquire about availability.
Rental rates are as follows:
The Coop (accommodates 30-50 guests) $750 for 5 hours (+$150/additional hour)
The Barn – Downstairs (accommodates 50-75 guests) $1000 for 5 hours (+$200/additional hour)
The Barn – Main Floor (accommodates 75-200 guests) $1200 for 5 hours for 75-125 guests or $1500 for 5 hours for 126-200 guests (+$250/additional hour)
*Decorating and clean up time is not separate from the rental fee, so should be factored into the total rented hours of your event. You will not be able to access the venue the day before. These prices are subject to change pending a signed Rental Agreement.
All Event Packages include
Exclusive use of the rented facility and lakeside grounds with gazebo
Tables and chairs for up to 200 guests. Seating capacity depends on the space. (Note: We do not provide linens.)
Tables for food & drinks (rustic trough available for bottled & canned beverages. Ice & beverages are not provided by the venue.)
Restrooms (located in The Coop)
On-site Parking, parking sign & traffic cones
30 minute consultation + 1 additional scheduled visit for planning purposes (1 hr max)
Built-in bar area + outdoor grain bin bar (weather permitting. See below for bar policies.)
Prep kitchen w/ refrigerator, microwave, & sink.
Trash cans & bags. (Renter must take trash to dumpster at the end of the event.)
Deposits & Payments
A non-refundable down payment of half the rental fee is required to reserve your date, along with a completed rental agreement. The remaining balance is due no later than 2 weeks prior to the event.
If payment is not received on time according to scheduled due dates, Lakeside Occasions reserves the right to terminate your event and all paid monies become non refundable.
A Security Deposit is required with your final payment. The amount depends on which space you are renting and may range from $150-$500. It is refundable unless there are damages, excessive cleaning was required, or policies were violated.
Lakeside Occasions will deduct the cost of cleanup and/or repairs from the Security Deposit and provide an itemized list of costs with the balance (if any) within two weeks of the event.
*We prefer payments by check, but will accept cash, cashier's checks or credit cards. All CC payments will incur a 3% processing fee. Checks should be made out to Lakeside Occasions.
Catering
We do not require that you use our venue's approved caterers, however they are familiar with our facilities and each provides excellent services! Outside caterers or self-catering is subject to completion of our Facility Use Agreement.
Alcohol
All alcohol must be provided and served by Lakeside Occasions. We allow a basic beer and wine package for non-wedding events and will provide a bar menu upon request. We do not allow hard liquor, shots or pitchers.
*It is mandatory that a security officer be present when alcohol is served. The fee is $30/hour (subject to change.) All bar service fees are due one week in advance of the event.
You must also sign our alcohol and smoking agreement.
Additional Notes:
Renters must also sign and distribute to vendors our Facility Use Agreement and return prior to the event.
Couples who have booked their wedding & reception at Lakeside Occasions will receive a 10% discount on ALL future rentals!
All rentals are subject to 7% Indiana Sales Tax.
Ready to see us in person?
Check if the barn is available for your event and schedule a tour!
Words of Endearment
Brides, grooms, and guests share their experiences at Lakeside Occasions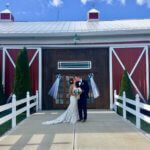 Our day could not have been any more perfect.
Taylor & Wesley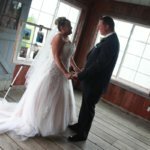 Thanks for helping make our special day extraordinary.
Liz & Les