ANNUAL HOLIDAY BAZAAR
OCTOBER 28 FROM 8 AM – 3 PM
LOTS OF VENDORS, FOOD & DRINKS, ON-SITE MASSAGE, & DOOR PRIZES!
INTERESTED IN BEING A VENDOR? MESSAGE [email protected].
Start seeing Shipshewana as a Destination! There are so many wonderful places to visit and fun things to do in our area! 
SHOPPING
Harrison Street and Morton Street in Shipshewana are where it's at! Tons of little shops offering gifts, antiques, fun decor, clothing, etc. You will definitely want to check out Davis Mercantile, Cherry Pickers, and Ole Tin Rooster (carries Magnolia Home Decor). You can grab lunch or dinner and take a carriage ride at the Blue Gate, which also has a theater if you want to catch a show while you're here. Davis Mercantile is filled with unique shops, Jojo's Pretzels (a must try!), and a carousel & fun book/toy store for the kiddos.
You may also want to check out Yoder's Department Store and Yoder's Red Barn & Yoder's Meat & Cheese – all on Van Buren as you drive into town. Ben's Pretzels and E&S are also popular if you're hungry for lunch or a snack!
Then, there's the flea market. The hours may not be too convenient for weekend visits, but if you want to extend your trip, the Flea Market is open every Tuesday and Wednesday from May through September from 8 a.m. to 4 p.m. Special holiday openings include Memorial Day, 4th of July and Labor Day, as well as two new weekend markets on June 14-15 and August 16-17, 2019.
Shopping Links:
http://www.shipshewana.com/shopping.php
ATTRACTIONS
Dutch Creek Farm Animal Park – Located just 10 minutes from downtown Shipshewana, this is a wonderful place to take the kids if you have some extra time. You can take a safari-style wagon ride through the farm and feed the exotic animals – Antelopes, Water Buffalo, Zebras and more! There's also a petting zoo with goats, pigs, monkeys, deer, etc! Dutch Creek Farm Animal Park is open May 1 – Mid October – Monday -Saturday 9am – 4:30pm. Open Memorial Day, July 4th and Labor Day. Wagon Tour Adults $12.95, Children (ages 3-12) $8.95, Seniors (age 65+) $11.50. Group Rates are also available!
Live Theatre – At the Blue Gate or at the MEC (Michiana Events Center)
EAT
There are so many great places to eat in and near Shipshewana! The Blue Gate is great for traditional Amish style cooking, El Zorrito 2 if you're craving Mexican, East of Chicago (try their deep dish!), and Wana Cup. If you head West on 20 to Middlebury, check out Daus Essenhaus for a delicious Amish buffet. I also love Aunt Karen's Cafe in Middlebury as well, but they're only open for lunch. In downtown Topeka, we have Tiffany's Restaurant and the original El Zorrito. Just a few miles out of town, CopperTop and Beauty & the Bull are good eats, and so is Fireside Craft Burgers & Brews in LaGrange.
And if you're looking for a truly unique experience, you may try Amish style in-home dining!
http://www.shipshewana.com/food.php
FESTIVALS
http://www.shipshewana.com/festivals.php
INFORMATION
LaGrange County Chamber of Commerce www.LagrangeChamber.org
Elkhart County Convention and Visitors Bureau www.AmishCountry.org
LaGrange County Convention and Visitors Bureau www.Backroads.org
Ready to see us in person?
Check if the barn is available for your event and schedule a tour!
Words of Endearment
Brides, grooms, and guests share their experiences at Lakeside Occasions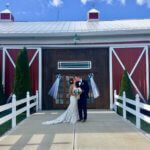 Our day could not have been any more perfect.
Taylor & Wesley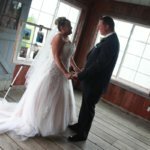 Thanks for helping make our special day extraordinary.
Liz & Les